ABOUT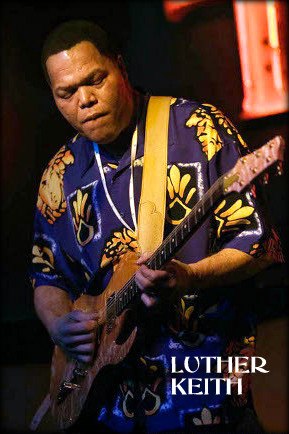 Luther is a veteran Detroit Blues guitar player who has recorded more than
50 songs and released 4 great albums. He has performed at some of the
most notable venues and events in the area including Baker's Keyboard
Lounge, Cliff Bells, Bert's Place, Callahan's, Harbor House, Nancy Whiskey's,
Rosie O'Grady's, the historic The Soup Kitchen, and Ground Zero in Memphis.

Luther has also performed at The Music Hall, The Ferndale Blues Festival,
The Windsor Blues Festival, The Chene Park Concert Series, The Campus
Martius Concert Series, The Arts Beats & Eats Music Festival, Cobo Center,
and The New Year's Eve D-Drop at Cadillac Square.

Luther has been nominated for five awards at The Detroit Music Awards and
was honored as Outstanding Blues Songwriter. He also won The Detroit
Blues Challenge Award.

What makes these accomplishments even more impressive is that Luther
didn't pick up a guitar till he was 30 and didn't start performing in public till
he was 45.

After earning a degree in Journalism from The University of Detroit, Luther
landed a job as a reporter at The Detroit News. He later became a columnist,
then Chief Economics Correspondent - and eventually the Business Editor for
the paper. But in 1980, he saw famed Blues guitarist, Luther Allison, perform at a local nightclub and became immediately hooked on The Blues. A transformation took place.

Days later, Luther went out and bought a used guitar and spent the next 15 years practicing the instrument as a recreational musician. In 1995, Luther finally formed a band and began to perform on stage. In 1998, he picked up the nickname "Badman" based on his style of play and that became his artist middle name. Then in 1999, things started rolling when Luther released his 1st CD. In the 16 years that followed, he would release three more.

These days Luther can be heard performing at local clubs and festivals all around the Metro-Detroit area for evening and weekend gigs. But his current professional day job is serving as the Executive Director of the Arise Detroit Foundation which works with neighborhood businesses and leaders to improve the quality of life in the many Detroit communities.

Whether he's on stage playing music to his fans or on stage delivering speeches to community groups, Luther is always inspiring people. His impact has been formidable.

Every Blues singer seems to have a great story to tell. This is Lutherís. Despite his late start, he never gave up on his passion. His life story provides great motivation for any of us who have big dreams.